The type of tea determines the type of teapot. Be sure to use the most appropriate one.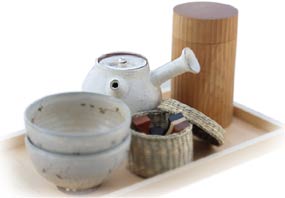 For premium tea
Use a small teapot for Gyokuro and premium Sencha to fully extract the flavor into a small volume of hot water. Mame-kyusu, an extremely small pot for Gyokuro, has only a 100-cc capacity and looks like a toy. This size is, nevertheless, the most appropriate for Gyokuro. If you purchase only one pot, a pot with a 250-cc capacity for premium Sencha is recommended. A teapot with 600-cc capacity designed for regular Sencha is also convenient, as it can be used for both purposes.

For regular tea
Steep Genmai-cha, Houji-cha, and Bancha leaves in a generous quantity of hot water. A teapot with an 800-cc capacity is very convenient. As boiling water is used for this type of tea, a heavy pot is good for the retention of heat. An earthen teapot with a liana handle is recommended for its Japanese feel.

Glass teapot
These days, heatproof glass pots are also readily available. Such small-size teapots can be used for various types of green tea, such as Mecha, Gyokuro, and premium Sencha, for example. Wait for a while and watch the leaves uncurl. Enjoy the color of Sencha brewed in cold water in summer.